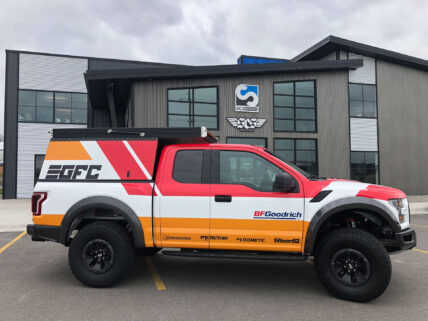 Signs, Concepts & Solutions
We create solutions for your concepts – Our dedicated team of design, print, and install professionals are able to deliver on a scale unmatched anywhere in the region. With our staff's combined experience and the latest large-format printing technology, SCS Wraps has a branding solution for you.
(SCS) is a one-stop-shop for everything creative and challenging with respect to large format digital printing, fleet graphics, wall wraps, event branding and impact advertising. Our relationships with our valued customers illustrate who we are, and what we stand for. We believe strongly that going the extra mile for our customers will return outstanding results and create long-lasting partnerships.
While focusing closely on print quality and customer service, our friendly and knowledgeable staff is able to customize any package to fit your needs. From full fleet vehicle application and graphics nationwide, to real-estate signage, SCS Wraps has a proven record of delivering professional print and design pieces. Be sure to look through our Blog to see some of our latest work!
Chris Curran
22:19 07 Mar 23
Could not have asked for better customer service! Asked Joe to perform a small, but custom and time sensitive, project and he and the shop got it done that day! Bronco looks great!
Betsy Rudigoz
01:12 10 Feb 23
Outstanding customer service. Attention to every detail, and very accommodating with modifications, details to changes in graphics to obtain exceptional an wrap.
Tro Pro
18:03 25 Jan 23
update: They did it again! Samantha and Jenna were awesome with our sled wrap custom designs! Another great experience with SCS! Based off the customer service I received from Samantha when ordering my custom kit for my sxs, without question, I would ordered from SCS again! She was very helpful and offered ideas on customization. Samantha was genuine, enthusiastic and almost as excided about this kit as me. :) She really made me feel good about my purchase with SCS!
3M Graphics Installation Company
UASG Member for over 10 years!