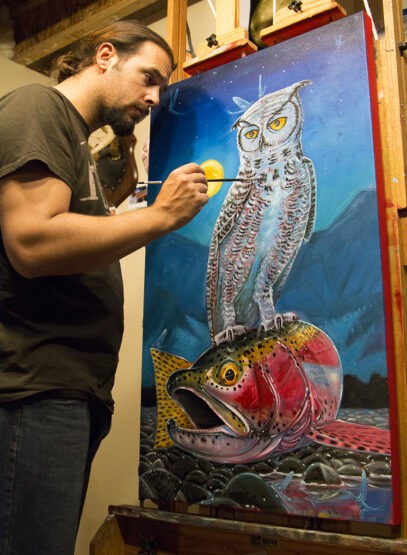 If you want to take your drift boat to the next level and float the river in true style, SCS can wrap your boat (or oars, or tackle box!) in one of DeYoung's colorful paintings.
Understanding the importance of keeping print quality consistent and manageable, DeYoung has partnered with SCS Wraps of Bozeman, Montana to exclusively print and distribute vinyl wraps of our unique images. Using our industry leading, large format printing capabilities we can turn your boat into a masterpiece. SCS is exclusively licensed to print and distribute Derek DeYoung vinyl wraps. DeYoung will not transfer art files or templates to any unlicensed third party.
BIO: Derek was born on a bayou near the shores of Lake Michigan where his love of fishing was ignited. Over the years his art has veered from the classical fishing art, placing more importance on using a unique style and palette. Using oil paints on canvas, he artfully captures all the subtle intricacies fish possess; their patterns, dimension and texture.

"When hiking up a small mountain stream, I'm not just chasing trout, I'm searching for a magical experience or vision that will inspire me, and raise my paintings to that next level. For me, the most inspiration comes once I've landed a particularly beautiful fish. I hold it up, tilting the fish back and forth in the sunlight, allowing all the subtle colors and patterns to come alive. After setting the fish back into the water and releasing it into the depths, the only thing left to do is get back to my studio to bring that fish to to life on my canvas."Derek DeYoung